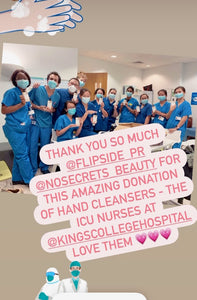 Saying 'Thank-you', one bottle at a time!
On Saturday 6th March, we delivered 250 bottles of Hand Cleanser to be gifted to the ICU Nursing Team at Kings College Hospital, London.  We spoke to Yasmine, an ICU Sister, about the intensity of their work in the last year and learnt about the feelings of fatigue that they are all feeling.  
Treats like our Hand Cleanser in 'Four' are perfect little boosts for the team; letting them know that they are not forgotten and that we are still thinking about them.  The use of PPE, regular changes of gloves, hand washing and sanitising have all taken their toll on the hands of medical staff.  The sameWe hope our gentle, but effective, hand cleanser will be something soothing for them to use at home.  
Here are a couple of pictures: the drop off and the delivery!  Lots of smiles can be seen, even behind the masks, which is very humbling to the team at No Secrets!  Thank you Yasmine, (Instagram @peels_masks_and_scrubs)  for facilitating this gift.