We ship once a week - usually Saturday.
Free shipping for all orders £25 and over.
"Fabulous as a shampoo and just as lovely as a body bar. I wanted to stop using shampoo in plastic bottles. So pleased I have found them." Sue
No Secrets is a boutique British brand, dedicated to creating innovative pure plant based beauty products designed to take care of sensitive skin, as well as adding a splash of luxury and indulgence to your day. 
Another award!
The Global Green Beauty Awards have recognised our fabulous Solo bars with a 'Highly Commended' in the Best Plastic Free Beauty Product category.
Why not ditch those plastic bottles and try the best Shampoo & Body Bar now!
Buy Solo bars here!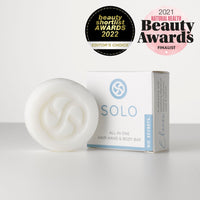 Beauty Shortlist Award Winner!
Our multi-award winning, shampoo and body bars are back in stock and smelling better than ever! The Independent called them 'a real must have' and loved the 'spa like scent'.
And they've picked up another award - from the Beauty Shortlist!
Grab your Solo now!
What's the best product for mature skin?
Read the latest blog to get the low down on mature skin, fatty acids and which of our products should be on your list!
Click here