Next shipping date: 19th December
Free shipping for all orders £25 and over.
Gift beauty, Gift kindness
Our gifts are about enhancing your soul!
By choosing plant-based and joining us in the move to plastic free, you're gifting kindness to your skin, the environment and future generations. Shine on, eco-warrior!
Gifts that show you care
"Fabulous as a shampoo and just as lovely as a body bar. I wanted to stop using shampoo in plastic bottles. So pleased I have found them." Sue
No Secrets is a small, family run independent boutique British brand. 
We have two key purposes:
1. A dedication to creating innovative pure plant based beauty products designed to take care of sensitive skin
2. A commitment to reducing the 1 billion plastic shampoo and shower gel bottles that are thrown away each year in the UK in the name of beauty. 
(20 bottles a year x 50mill people = 1 billion - Yes, we were shocked too!)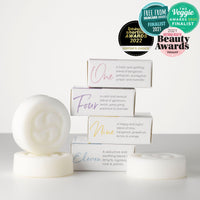 Solo is a Winner baby!
2022 Global Green Beauty Awards: Highly Commended
2022 Beauty Shortlist Awards: Editor's Choice 
2021 Top Sante Bodycare Awards: Gold 
2021 Freefrom Skincare Awards: Bronze
2021 Natural Health Beauty Awards: Finalist
2021 The Veggie Awards: Finalist
 The Independent, 23 March 2021: 'This unassuming shampoo and body bar is a real must have if you haven't yet tried a solid shampoo. ... For effectiveness as a product, No Secrets was also a firm favourite and one we'd readily recommend to friends wanting to try out a solid shampoo for the first time.'
Buy Solo bars here!
A must have for Travel!
Customer reviews: 
⭐⭐⭐⭐⭐R.B. Great for Holidays! '... So rather than 3 bottles in my case taking up room and weight I have one tiny little bar!!! Am absolutely hooked!!!'
⭐⭐⭐⭐⭐ Ottspots Oh Wow '... not expecting too much ... I was totally blown away by the results. I've tried shampoo bars before and found them lacking, solo however is truly amazing, it left my hair feeling and looking, soft, shiny and manageable not to mention smelling divine. Love this company and everything it stands for.'
Grab your Solo now!
Solo: One Bar for Your World
Bring the Spa Home!
Clearance Specials
Shop our original No Secrets collection. Wonderful, luxurious, 100% Plant Based Beauty. Scented with Essential Oils - Bring the Spa home!
Click here