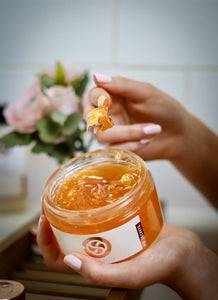 So, what is Body Jelly?
Hello! I'm Lorna the face behind No Secrets!

I'm grinning like a Cheshire Cat about our latest launch.  I have several pots on the go, rescuing my hands from sanitiser!  But it's so much more than that.  A perfect way to keep your hands, and body, smooth and spoilt this Autumn! 

How it started
We wanted to create a No Secrets Body Oil, infused with our spa like essential oils blends.  

Why?
When my Doctor advised me to get rid of a list of toxins in my daily routine, it was especially important to find an alternative to my fragrant, beauty hall, Body Lotion.  As a 'leave on' product, the toxins were being absorbed, through my skin, straight into my blood stream. 
Nature is the solution
A blend of plant oils, only scented by fragrant oils,  was the answer. 
But ...
Body oils can be tricky to use, running out of bottles quickly and then the bottles get really sticky and can leak - yuck.
Body Oil, evolved
Messing about, an idea that became reality. Could the oils be set, like a jelly?  
Test, test and test again
All beauty products must be tested in their intended packaging for stability and compatibility.  
The testers didn't trust my instincts, being certain, that the oils would leak from the beautiful glass jars (the recommendation was to place this in a tube ... 'like toothpaste, I said, no way!')
So the testing went on ... past the standard six months until nearly a year went by! Shaking, cooling, warming ... all to make sure your Body Jelly arrives to you in perfect condition.  

It passed!
And so we bring you
Body Jelly!
A rich blend of plant oils, 'set' to make it easier to use, brimming with anti-oxidants, vitamins and restorative goodness.
A fabulous way to sooth really dry skin and restore elasticity.
A simply beautiful gift to self or someone you care for.



'... the effects are long-lasting, with my dry skin reaping the deeply moisturising benefits all day long ...'
Emma - beautyfoliouk
 
I am so excited about this product and hope you are going to love it too!