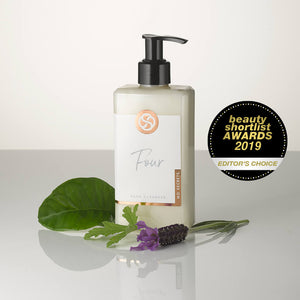 Fabulously sensual and calming, your hands will be sensitively cleansed and moisturised with cocoa and shea butters, while your senses are relaxed with a blend of geranium and ylang ylang with exotic neroli, lavender and patchouli.
The natural ingredients in our beautiful hand cleansers mean your hands are left smooth and clean, but not dry.
All ingredients are 100% derived from plants and naturally occurring sources.
Suitable for Vegans
Four Hand Cleanser is my go to hand wash in the evenings, with its calming and stress relieving qualities.
It's so nice and relaxing with the gorgeous soothing scents of Ylang Ylang and Neroli shining through.
Delicious smell
Such a long lasting wash....cheering me up & my cloakroom users every time
Four
I have been using Four Hand Cleanser for some time now it has a spa smell, it's so luxurious that you only need a little as it makes your hands feel clean and moisturised. My children use Four and it doesnt dry their hands out even from frequently cleaning their hands. I also use Four Shower Creme, and its makes your body feel smooth and leaving a spa smell on your skin. I would highly recommend.
Gorgeous product
I hardly ever write reviews but had to say how much I love the 'Four' range of products. They're so luxuriously pure with a spa like smell and feel good on the skin. Definitely a gorgeous treat for a present.
Sensual & Calming
Creating an exotic and warming shower experience with only natural essential oils.
&times
Ingredients
No Secrets products are all made from 100% naturally occurring ingredients and free from harmful chemicals - therefore no parabens, no phenoxyethanol, no sodium laureth sulfate, no sodium lauryl sulfate, no phthalates and absolutely no animal derived raw ingredients.
Sodium lauryl sulfoacetate
Naturally derived surfactant from coconut oil
Cleans and creates a lather

Disodium cocoamphodiacetate
Naturally derived surfactant from coconut oil
Cleans and creates a lather

Disodium laureth sulfosuccinate
Naturally derived surfactant
Cleans and creates a lather

Glycerin
Naturally occurring humectant
Moisturises

Cocamide MIPA
Naturally derived surfactant
Foam booster

Lactobacillus
Skin conditioner from coconut
Conditions skin

Glycol stearate
Naturally derived emollient
Conditions skin

Lactic acid
Naturally occurring PH regulator
Exfoliates

Cetearyl alcohol
Naturally derived emulsifier from coconut
Conditions and softens

Sodium levulinate
Naturally derived preservative
Preserves

Sodium anisate
Naturally derived preservative
Preserves

Citrus aurantium amara (Neroli) flower oil
Neroli oil
Fragrance

Pelargonium graveolens (Geranium) flower oil
Geranium flower oil
Fragrance

Cocos nucifera (Coconut) extract
Coconut extract
Conditions skin

Cocos nucifera (Coconut) oil
Coconut oil
Conditions skin

Salix Alba (Willow) leaf extract
Willow leaf extract
Soothes skin

Xanthan gum
Xanthan gum
Binder & emulsifier

Limonene
Citrus fruit extract
Fragrance

Lavandula Angustifolia Herb Oil
Lavender oil
Fragrance

Eucalyptus globulus (Eucalyptus) leaf oil
Eucalyptus leaf oil
fragrance

Cananga Odorata (Ylang Ylang) oil
Ylang Ylang oil
Fragrance

Pogostemon Cablin (Patchouli) leaf oil
Patchouli oil
Fragrance

Citronellol
Naturally occuring plant extract
Fragrance

Linalool
Naturally occurring plant extract
Fragrance

Theobroma cacao (Cocoa) seed butter
Cocoa seed butter
Conditions & moisturises

Butyrospermum parkii (Shea) butter
Shea butter
Moisturises

Benzyl Benzoate
Naturally occuring oil
Fragrance

Geraniol
Naturally occuring scent
Fragrance

Benzyl salicylate
Naturally occuring oil
Fragrance

Eugenol
Naturally occurring essential oil extract
Fragrance

Trisodium ethylenediamine disuccinate
Naturally occurring chelating agent
Preservative & stabiliser

Citral
Naturally occurring scent
Fragrance

Hydroxycitronellal
Naturally occurring essential oil extract
Fragrance
&times
Botanicals & Benefits
Perfect for sensitive and dry skin, the base oils have moisturising and soothing properties whilst the blend of essential oils have anti-oxidants and anti-microbials. Packed full with plant based goodness.
Coconut Oil
Soothing and softening and often claimed to have healing properties

Cocoa Butter
Natural moisturiser with A, B1, B2, B3, C and E vitamins.

Shea Nut Butter
An excellent skin conditioner and softener.

Salix Alba
Willow bark extract is used as a gentle exfoliator and anti-microbial.

Geranium
Heals and soothes the skin.

Ylang Ylang
Calming, soothing, stress relieving and well known as an aphrodisiac.

Neroli
Calming yet uplifting. Regenerates the skin.

Patchouli
Uplifting and relieves stress.

Lavender
Antioxidant and rejuvenator, soothing and nurturing.
Free shipping for every order of £25 and over.
Our products are made from 100% naural ingredients with no hidden nasties.
We select the highest quality ingredients to ensure the healthiest and most nourishing results for your skin.
NO
No to harmful chemicals
Not a trace of synthetics
SLS/Parabens avoided
Not a drop of palm oil
YES
Plant based ingredients
Suitable for vegans
Pure essential oils
Nourishing to the skin
100% Natural Ingredients
No nasty chemicals
Recycleable Packaging
Safe for the environment
Cruelty Free
Not tested on animals